// MAKE YOUR POINTS COUNT
spotivity Transcript
If you are a spotivity member you have access to our internal in-app rewards store. Here you will be able to leverage your points earned for items that count. First up, the spotivity transcript – a memorialization of all the work you have done afterschool.
As a spotivity member you will be notified when new items come online – so stay in touch and leverage your activity wisely.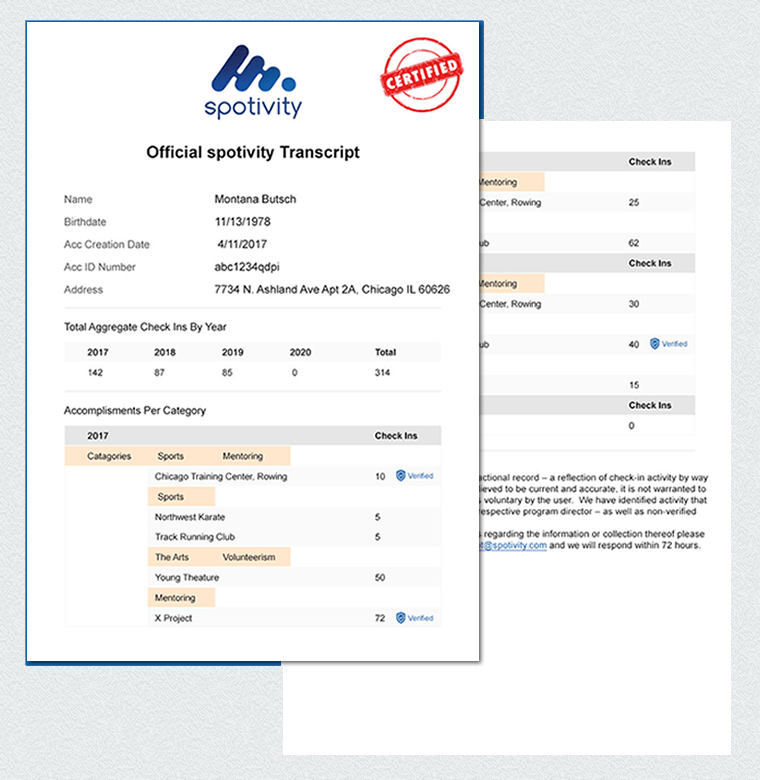 The common application used by colleges lets you include your
spotivity
transcript along with your academic transcript, and we highly recommend that you do. College admissions staff are looking for well-rounded candidates, as well as individuals who excel in areas beyond academics. Your extracurricular involvement communicates that you have the added drive to pursue your interests and expand your horizons and skills. Providing your spotivity transcript also helps colleges and universities insure they're fostering a diverse student culture at their school.
You can request one as a user of the app. Once you submit your request through the app, we'll reach out to your program providers and ask them to verify that your check-in records are accurate. You should receive a verified transcript in 48 hours.We charge $49.99 for the initial transcript, but we'll update it for the rest of the year for free. You can purchase your transcript with cash, or use the Rewards Store to pay with
spotivity points
. A transcript cost 500 reward points. Or apply 250 points to get 50% off the purchase price.